Furnace Service & Heating Service
Furnace Service in Skokie, IL, Lincolnwood, IL, Glenview, IL, Evanston, IL, Morton Grove, IL, & Northbrook, IL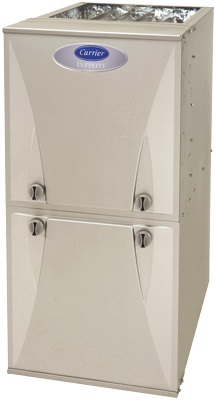 Heating and cooling accounts for approximately fifty percent of the energy used in the average home.  To get the most from your heating system, schedule professional maintenance each and every year.  When you call Skokie Valley Air-Control for preventative heating service, you'll enjoy numerous cost-effective benefits, fewer breakdowns, extended system longevity, and boosted efficiency.  The time and expense is minor, and easily offset by dependable and consistent temperature control.
When temperatures plummet this winter, will your furnace be up to the demands of local weather?  During an inspection, the heating experts at Skokie Valley Air-Control will check your furnace for minor issues that could potentially turn into complex repairs, allowing time to order and install any needed replacement parts.  If these defects are not caught prior to the winter workload, they compromise system dependability and performance, as well as your health and safety.
Why do furnaces need annual service?Furnace Maintenance in Skokie, IL, Lincolnwood, IL, Glenview, IL, Evanston, IL, Morton Grove, IL, & Northbrook, IL
Dirt accumulation impacts the air handler's ability to push heated air into your home, and may cause longer heating cycles and possible overheating.  Dirt and corrosion can compromise the condition of the heat exchanger, which separates the combustion process from breathing air.  A tight seal is necessary to prevent the gasses in the flue products inside the heat exchanger from entering the breathing air passing over the exterior surface.  Flue gases, such as deadly carbon monoxide, are extremely dangerous.  While your furnace may appear to be operating correctly, only comprehensive service can identify cracks in the heat exchanger or incomplete combustion.
Annual Heating Service Prevents Costly Furnace Repairs
The better your treat your furnace, the longer it will last.  According to the Department of Housing and Urban Development, a gas-fired furnace offers an average life expectancy of eighteen years.  This estimate was based on the assumption of regular inspection and professional cleaning.  Condition of the system is greatly affected by wear and tear on parts, filter changes, dust accumulation, and overall care and attention.  Your furnace will fail to meet manufacturer's expectations for lifespan, efficiency and performance without regular, conscientious heating service.
Skokie Valley Air-Control is a locally owned and operated furnace and heating company, with forty years of experience in the Morton Grove area.
We are familiar with the bitter winter cold throughout Skokie, IL, Lincolnwood, IL, Glenview, IL, Evanston, IL, Morton Grove, IL, & Northbrook, IL.  We know what it takes to keep a home perfectly comfortable at a reasonable price.  We understand that the last thing you want to worry about during the busy fall season is your furnace.  All you need to do it make a phone call, and our factory trained, licensed and insured team of heating specialists will handle the rest.  We take the upkeep of your heating equipment seriously.  As a significant investment, and all that stands between you and miserable cold, your furnace is of major importance.  To ensure the best possible care, contact Skokie Valley Air-Control at 847-967-2200 and we'll set up a convenient, quick and cost-effective service call.
HVAC Service, Heating Service, Furnace Service, Heating and Cooling Service Company & Furnace Maintenance in Skokie, IL, Lincolnwood, IL, Glenview, IL, Evanston, IL, Morton Grove, IL, & Northbrook, IL