Heating Repair & Furnace Repair
Furnace Repair Service in Skokie, IL, Lincolnwood, IL, Glenview, IL, Evanston, IL, Morton Grove, IL, & Northbrook, IL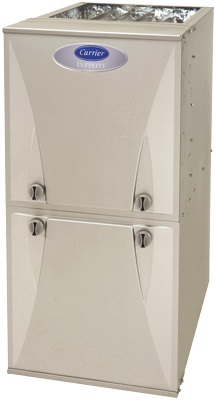 When your furnace fails, you notice.  Waking up to a freezing cold home is more than unpleasant, it's cause for alarm.  Nobody wants to spend time and money on heating repairs, but if something goes wrong with your furnace, the issue should be addressed immediately.  Call Skokie Valley Air-Control for prompt, dependable heating repair in Morton Grove. Our team of heating specialists strives to eliminate the inconvenience and hassle of a broken furnace. We provide courteous service, fair pricing, and ensure a rewarding experience from start to finish.
Do not ignore the tell-tale signs of a faulty heating system. Even slight temperature fluctuations, elevated noise levels or acrid smells can be worrisome.  Most major repairs can be prevented with professional cleaning and annual heating service.  Dirt affects all of the basic components of your furnace.  Pilots that won't ignite, frequent cycling on and off, or restricted airflow can be the result of dust accumulation.  Without regular, proactive heating service, stressed components may overheat, possibly damaging the heat exchanger.  Cracks or holes – due to overheating, rust or corrosion – risk the release of poisonous gases into breathing air.  At the first sign of trouble, call the certified heating technicians from Skokie Valley Air-Control.  We'll repair faulty components, troubleshoot for potential problems, and confirm safe operation.
Dependable furnace repair for uninterrupted comfortHVAC Repair Company in Skokie, IL, Lincolnwood, IL, Glenview, IL, Evanston, IL, Morton Grove, IL, & Northbrook, IL
When your furnace fails to meet expectations, you're probably spending more than you should to heat your home.  As performance decreases, energy consumption rises and there is a greater risk of illness caused by indoor air pollution.  Heating equipment and ductwork can become clogged with natural materials such as mice, plant matter, bugs, dander, and pollen. When this happens, there is a greater chance for bacteria to enter into your indoor air supply every time the furnace is activated.  Poorly functioning heating systems can affect your health, and cause symptoms of nausea, fatigue, irritated throat, fitful sleep, headaches and itchy eyes.
If you think you're saving time and money putting off furnace repair, think again.
When you put off furnace repair, you're risking much bigger malfunctions, possible system replacement, discomfort, health and safety.  The solution is simple: Contact Skokie Valley Air-Control at 847-967-2200 and get 24/7 heating repair work you can count on.  Our factory trained and authorized technicians not only deliver quick solutions to the toughest challenge, but they have the hands-on experience and industry specific knowledge to restore your components to peak efficiency and reliability. No matter the make, model or age of your equipment, our technicians arrive prepared with sophisticated tools, an array of replacements parts, and extensive resources to complete the job swiftly and accurately.
When your furnace quits unexpectedly, call Skokie Valley Air-Control for emergency heating repairEmergency Furnace Repair in Skokie, IL, Lincolnwood, IL, Glenview, IL, Evanston, IL, Morton Grove, IL, & Northbrook, IL
System failure tends to happen when equipment is working extra-hard, right when you need it most.  At Skokie Valley Air-Control, we expect the unexpected, so we're here when you need help, no matter what time of day or night.  We offer round the clock emergency heating service, handling the most complicated problems efficiently, and going above and beyond to return your home to warm comfort.  As a Carrier Factory Authorized Dealer, we endeavor to preserve system efficiency, sound levels, and longevity through the use of Factory Authorized Parts.   We keep you in the know, explaining the situation and making informed recommendations with your best interests as our priority.
Though forced air furnaces are normally very reliable, they can suffer breakdowns, and when they do, getting them repaired quickly is critical.  Call the heating professionals from Skokie Valley Air-Control for trustworthy and quality service throughout Skokie, IL, Lincolnwood, IL, Glenview, IL, Evanston, IL, Morton Grove, IL, & Northbrook, IL.  We'll put our training, experience, and commitment to quality to work for you.  Locally owned and operated for over forty years, we pride ourselves on the highest level of customer satisfaction.
24/7 Furnace Repair, HVAC Repair, Furnace Repair Company, Heating Repair, Heating and Cooling Contractor in Skokie, IL, Lincolnwood, IL, Glenview, IL, Evanston, IL, Morton Grove, IL, & Northbrook, IL