Boilers & Heating Systems
Skokie, IL, Lincolnwood, IL, Glenview, IL, Evanston, IL, Morton Grove, IL, & Northbrook, IL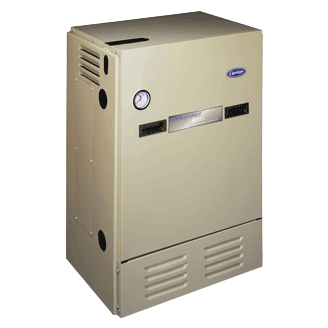 Skokie Valley Air-Control provides a wide range of energy-efficient, top quality gas fired residential and commercial boilers.  When you call our factory-trained specialists for installation, you'll enjoy  exceptionally energy efficiency, rewarding performance, and quiet operation.  Because boiler systems can handle the heating and hot water requirements for both large and small spaces, they are ideal for private homes as well as apartments and commercial facilities.  Advancements in design have improved heat output.  Electronic ignition has eliminated the need for a constantly burning pilot light, and significantly higher annual fuel utilization efficiency (AFUE) ratings, have given boiler systems a newfound popularity.  And when you choose an Energy STAR certified model over a standard model, you can save 25% off heating costs.
As a Carrier Factory Authorized Dealer, Skokie Valley Air-Control is able to offer our customers the gold standard of boiler systems.  There is simply no comparison on the market today.  These industry-leading products feature durable stainless steel or titanium burners and meticulously engineered heat exchangers made from cast iron or cast aluminum.  When you're looking for quality and durability, put Carrier gas-fired boilers at the top of your wish list.  These systems are built to last, and are extremely quiet when compared to the competition.  With a broad selection, Carrier meets every need for size, energy efficiency, space savings and budget.
30 Years of Powerful HeatingBoiler Repair Service & Installation in Skokie, IL, Lincolnwood, IL, Glenview, IL, Evanston, IL, Morton Grove, IL, & Northbrook, IL
A boiler system has incredible lasting power.  It's not unusual for a natural gas-fired boiler to provide consistent operation for thirty years.  With annual maintenance from Skokie Valley Air-Control, your system will avoid major repairs, last year after year, and provide dependable and efficient performance.  You'll also enjoy a greatly reduced electrical bill.  Gas boilers require only minimal electricity, generating heat through the burning of gas instead of by electrically heated coils.  They are an environmentally responsible choice, reducing greenhouse gas emissions, and are extremely safe to operate.
The size and type of boiler must meet your exact demands for power and the available space.  Through a wide variety of gas-fired boilers and complementary products, the factory-trained technicians from Skokie Valley Air-Control will tailor a system to your specifications, requirements and expectations.  Our team of technicians is factory trained, licensed and fully insured.  We offer free in-home estimates, and take the time listen to your needs and concerns, before making informed recommendations.
Gas-fired boilers deliver efficient, consistent rewards without the noise, drafts, and dust of a forced air system.  Proper installation of a boiler system is critical to ensuring ideal performance, conservation of energy and long life of the equipment.  Skokie Valley Air-Control has the necessary skills, knowledge and years of experience to make sure your new boiler lives up to your expectations.  Call us and know that we'll complete your project from start to finish with the dedicated and personalized attention customers have come to expect from Skokie Valley Air-Control.  We've spent the last 40 years taking the extra steps that ensure total comfort and satisfaction for home and business owners throughout Skokie, IL, Lincolnwood, IL, Glenview, IL, Evanston, IL, Morton Grove, IL, & Northbrook, IL.
HVAC Company, Boiler Repair Service, Boiler Installation Contractor in Skokie, IL, Lincolnwood, IL, Glenview, IL, Evanston, IL, Morton Grove, IL, & Northbrook, IL