Air Conditioning Repair & AC Repair Service
Air Conditioner Repair Company in Skokie, IL, Lincolnwood, IL, Glenview, IL, Evanston, IL, Morton Grove, IL, Niles, IL, Wilmette, IL, HIghland Park, IL, Deerfield, IL & Northbrook, IL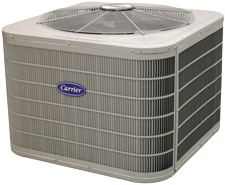 Don't struggle with an air conditioner that's not living up to expectations.  Your summer enjoyment and investment in home comfort are too important to neglect.  Call the professionals from Skokie Valley Air-Control for prompt, dependable repair services.  Our expert team specializes in comprehensive cleaning, safety checks and lasting repairs of all types of heating and cooling equipment.  Through factory training and hands-on experience, our technicians are able to isolate problems quickly and provide accurate solutions without multiple house calls.  As a locally owned and operated business, we understand that fair pricing, quick resolution, and full disclosure are the key to customer satisfaction.  To eliminate any worries you might have, know that our dedicated technicians will keep your best interest as the priority, making informed recommendations, and delivering the most economical solutions.
Breakdowns and serious malfunctions never happen at convenient times.  They are aggravating, uncomfortable and can even put your safety and property at risk.  Swift attention to these issues is essential.  Rest assured that the Skokie Valley Air-Control service department is always available to offer the help you need.  Around the clock and around the calendar emergency A/C repair is only a phone call away.  Our factory-authorized technicians arrive quickly, take the necessary steps to prevent damage, and clean up and claim all equipment, packing and evacuated refrigerant for recycling.
AC Repair Experts with 24/7 Service!Emergency Air Conditioning Repair in Skokie, IL, Lincolnwood, IL, Glenview, IL, Evanston, IL, Morton Grove, IL, Niles, IL, Wilmette, IL, HIghland Park, IL, Deerfield, IL & Northbrook, IL
Skokie Valley Air-Control specializes in all aspects of air conditioning repair.  Whether your equipment is an outdated antique or a state-of-the-art model, from a well-known or obscure manufacturer, you can trust us to handle the job from start to finish.  We employ a team of service professionals who continue training in evolving HVAC technology and products and have been recognized for exemplary business practices and service by Carrier.  As a Carrier Factory Authorized Dealer, our team has the specialized knowledge to perform proper repairs, and we rely on Factory Authorized Parts for superior fit and durability.
When it comes to even the most minor problems with cooling system performance, it's best to be proactive.  Call Skokie Valley Air-Control if you are aware of increased operational noise, musty smells, temperatures swings, or insufficient humidity control.  These are warning signs.  They're telling you that you're paying higher than necessary energy costs, probably living with polluted air quality, and definitely headed toward bigger malfunctions.  Don't procrastinate.  The consequences of a faulty HVAC system can be devastating.
A Clean Air Conditioner Means A Clean Home.Air Conditioner Repair Company in Skokie, IL & The Surrounding Areas
A central air system is an ideal environment for black mold.  When air conditioning is activated, millions of mold spores can become airborne and circulated through your home, triggering allergy symptoms, headaches, rashes, and respiratory problems, such as asthma and sinusitis.  The accumulation of contaminants within your split system will also restrict airflow, and can block condensate drainage.  Your system generates a lot of water.  Blocked or leaking condensate can cause a tremendous amount of property damage if not discovered immediately.
Skokie Valley Air-Control is locally owned and operated, with a forty year history of providing reliable, efficient and lasting repairs at fair prices to home and business owners in Morton Grove and across Skokie, IL, Lincolnwood, IL, Glenview, IL, Evanston, IL, Morton Grove, IL, Niles, IL, Wilmette, IL, HIghland Park, IL, Deerfield, IL & Northbrook, IL.  Punctual service, quality work, and extensive guarantees protect you from the stress and hassle of air conditioning repair.  Our goal is to more than satisfy.  We work hard to earn your trust and keep your business and take the extra steps that ensure we exceed expectations.
HVAC Company, Air Conditioning Repair, AC Repair, Air Conditioner Repair, Heating and Cooling Contractor in Skokie, IL, Lincolnwood, IL, Glenview, IL, Evanston, IL, Morton Grove, IL, Niles, IL, Wilmette, IL, HIghland Park, IL, Deerfield, IL & Northbrook, IL