Air Conditioning & AC Installation Company
Air Conditioner Installation Company in Skokie, IL, Lincolnwood, IL, Glenview, IL, Evanston, IL, Morton Grove, IL, & Northbrook, IL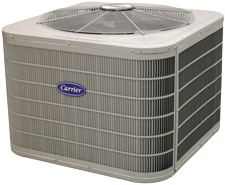 If you're in the market for affordable, efficient and rewarding relief from the sticky heat and humidity of a Morton Grove area summer, look no further.  Skokie Valley Air-Control has simple, convenient and rewarding answers to home cooling.  We install the most popular makes and models of cooling systems on the market today, and as a Carrier Factory Authorized Dealer, we bring our customers the ultimate in affordable luxury.  With a variety of A/C models to answer every expectation, we combine top-of-the-line equipment and factory-trained technicians, to deliver precise, lasting and total cool comfort.    Call Skokie Valley Air-Control, for outstanding rewards.
The Best Air Conditioning Repair & Service Team in Morton GroveAC Installation also serving: Skokie, IL, Lincolnwood, IL, Glenview, IL, Evanston, IL, Morton Grove, IL, & Northbrook, IL
Skokie Valley Air-Control is a locally owned and operated HVAC company, and we understand the need for reliability and quality from the equipment we install.  Through high-efficiency options, we keep energy consumption low, utility costs under control, and minimize environmental impact.  At Skokie Valley Air-Control, we promote ENERGY STAR certified products as the most efficient choice you can make.  The Carrier Infinity Series is ENERGY STAR rated in every size, is a Consumer's Digest Best Buy Winner, and features two-stage compression, operating mainly in low-stage, for superior efficiency and dehumidification.
The crew from Skokie Valley Air-Control is Carrier Authorized, receiving continued updates in technology and equipment, guaranteeing in-depth knowledge of leading-edge advancements and systems.  Our licensed technicians have the comprehensive training, in-field experience, and commitment to correctly size and fit your system to your specific needs.  Ductwork and sheet metal are custom made in our own sheet metal shop to guarantee a smooth installation that looks good and performs up to expectations.  Through a precisely installed air conditioning system, you'll benefit from efficient cooling, cleaner air, and humidity control.
Trust Skokie Valley Air-Control to Professionally Handle Your Air Conditioner Installation in Skokie, IL & The Surrounding Areas
As an air conditioning system extracts heat from your home, air is circulated and filtered, trapping dust, pollen, dander, mold spores, particulates, and other allergens.  Reducing moisture levels greatly reduces dust mites and cockroaches, and discourages insect infestation.  Keeping doors and windows closed allows for better security, reduced noise pollution, and prevents pollen and dust from entering through screens.  You'll benefit from a cleaner home, fresher air, and enjoy more restful sleep and greater productivity.  To learn more about the many advantages of a home cooling system, call Skokie Valley Air-Control, and we would be happy to set up a consultation.
We offer free on-site estimates and all of our work is guaranteed to meet your total satisfaction.

For over forty years, we've answered the need for dependable temperature control in Morton Grove and throughout Skokie, IL, Lincolnwood, IL, Glenview, IL, Evanston, IL, Morton Grove, IL, & Northbrook, IL.  Locally owned and operated, we've made extreme weather solutions our business, and by providing competitive pricing, leading-edge equipment, and quality workmanship, Skokie Valley Air-Control takes the heat and hassle out of our home and delivers the perfect cooling you deserve.
HVAC Installation, Air Conditioner Installation, AC Installation, Air Conditioning Installation Contractor, Heating and Cooling Installation in Skokie, IL, Lincolnwood, IL, Glenview, IL, Evanston, IL, Morton Grove, IL, & Northbrook, IL